by Kevin Muller
Two months after its usual broadcasting date, the Oscars are finally here! This year, while hectic, did provide some quality entertainment. Even though I can't forgive them for not nominating Delroy Lindo for Da 5 Bloods, the nominees this year were damn good. Anyway, here are SOME of the biggest nominations that include my picks and who I think will win.  Please enjoy….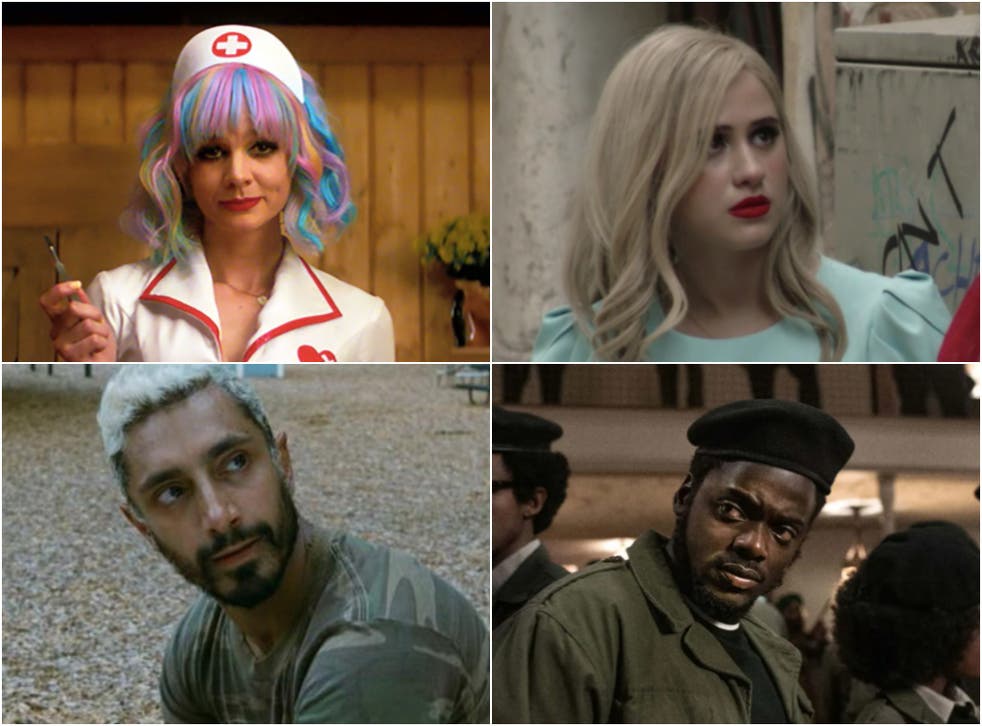 Best Animated Feature
Wolfwalkers
Onward
Soul
A Shaun the Sheep Movie
Over the Moon           
My Pick and Who Will Win: Soul
While Disney put out a very worthy solo effort with Onward, there is just no messing with Pixar. This time, they told the touching, moving, and beautifully animated tale of a man searching for meaning in his life. Jamie Foxx does great work as Joe, an aspiring musician who is stuck as a middle school music teacher, whose unfortunate death takes him on a journey to discover his self-worth. Tina Fey adds her reliable comedic charm as an entity who helps Joe see the good in his life. The animation during the scenes that take place in the outside realm of Earth, are breath taking and unique.  Some say it is a little too advanced for children, but I feel, in a world this crazy, teaching children the valuable lessons, that this film provides, is the reason it will walk away with this award.
Best score
Da 5 Bloods (Terence Blanchard)
Mank (Trent Reznor and Atticus Ross)
Minari (Emile Mosseri)
Soul (Trent Reznor and Atticus Ross)
News of the World (James Newton Howard)
 My Pick: Trent Reznor and Atticus Ross for Mank
Will Win: Emile Mosseri for Minari
 You can maybe count out Reznor and Ross, since nominees who have two nominations within the same category, usually cancel themselves out, but I feel that the duo, who won this award ten years ago for The Social Network, deserve this one because they stepped out of their comfort zone. Their film scores are usually made by synthesizer but with Mank they worked with a full orchestra to create a sweeping score that felt right to the film's 1930 setting. That said, I feel the Academy will give this one to Minari, which has a beautiful Earthly score.
Best Cinematography
Mank (Erik Messerschmidt)
Judas and the Black Messiah (Sean Bobbit)
The Trial of the Chicago Seven (Phedon Papamichael)
Nomadland (Joshua James Richards)
News of the World (Daruisz Wolski)
My Pick and Who will Win: Joshua James Richards for Nomadland
No other film this year had as much visual poetry than Richards's work in Nomadland.  Not only was the vast American landscape beautifully photographed, but the loneliness of the lead character Fern, was felt through his lens.
Best Adapted Screenplay
One Night in Miami (Kemp Powers)
The Father (Christopher Hampton and Florian Zeller)
The White Tiger (Ramin Bahrani)
Nomadland (Chloe Zao)
Borat 2 (Sasha Baron Cohen, Anthony Hines, Dan Swimer, Peter Baynham, Erica Rivinoja, Dan Mazer, Jena Friedman and Lee Kern)
My Pick: Christopher Hampton and Florian Zeller for The Father
Will Win: Kemp Powers for One Night in Miami
 I wouldn't mind if either of these two took the gold. My pick perfectly portrays the tragedy of a man succumbing to a disease. Hampton and Zeller's intriguing narrative helps you feel the utmost terror that its subject experiences. The equally as impressive screenplay for One Night in Miami creates an entire movie using four predominant black figures just talking in a hotel. Sounds boring, right? Well, it is anything but a drag. Outside of the performances, the script is full of interesting points on being black in America, religion, and the power of change. Screenwriter Kemp Powers guides us through many deep and meaningful conversations from four different, but somewhat similar, points of views.
Best Original Screenplay
Judas and the Black Messiah (Will Berson and Shaka King)
Minari (Lee Isaac Chung)
Promising Young Woman (Emerald Fennell)
Sound of Metal (Darius Marder and Abraham Marder)
The Trial of the Chicago 7 (Aaron Sorkin)
Who Will and My Pick: Emerald Fennell for Promising Young Woman
Fennell's screenplay is as fierce, unpredictable, vulnerable, and as fun as its lead character. Instead of creating a one-dimensional character hell bent on revenge, Fennell shows us why this character is broken beyond repair. It is a smart and witty screenplay that is both devilishly fun and terrifyingly alarming.
Best Supporting Actress
Maria Bakalova in "Borat 2"
Glenn Close in "Hillbilly Elegy"
Olivia Colman in "The Father"
Amanda Seyfried in "Mank
Yuh-Jung Youn in Minari"
My Pick: Maria Bakalova in Borat 2
Who will win: Youn Yuh-Youn in Minari
 Out of all the categories, Bakalova is the one I am pulling for the hardest. Not only did she create such a hilarious character with Tutar, but she kept up with Cohen, who has been doing this for longer than the young actress has been alive. Nominated comedic performances don't happen that often, so it would be a big win for the genre. The winner though will be Youn, who is stealing hearts as the lovable grandmother in "Minari." The performance is good, but I wasn't blown away by it. Bakalova had to be constantly on her feet and was more than up to the task.
Best Supporting Actor
Sasha Baron Cohen in "The Trial of the Chicago 7"
Daniel Kaluuya in "Judas and the Black Messiah"
Leslie Odom Jr. in "One Night in Miami"
Paul Raci in "Sound of Metal"
Lakeith Stanfield in "Judas and the Black Messiah"
My pick and who will win: Daniel Kaluuya in Judas and the Black Messiah
As Fred Hampton, the leader of the Chicago chapter of "The Black Panthers," Kaluuya is a force to be reckoned with. Each time he speaks before the crowd of his loyal followers, you can feel the energy. Outside of the rallies, his performance goes deep into who Hampton was outside of the rallies and how he saw the movement was about helping everyone, of any race, out. The performance works so well because he possesses the characteristics of who Hampton was and what every leader should aspire to be.
Best Actress
Viola Davis in "Ma Rainey's Black Bottom"
Andra Day in "The United States vs Billy Holiday"
Vanessa Kirby in "Pieces of a Woman"
Frances McDormand "Nomadland"
Carey Mulligan "Promising Young Woman"
My Pick and who will win: Carey Mulligan
This has got to be one of the toughest categories to choose from this year. No offense to Kirby, but she is not part of the difficult equation of figuring out who will be up there on Sunday night. It would be crazy if she did beat the odds. Davis, who grabbed the SAG, already has an Oscar for her supporting role in Fences, but in Ma Rainey, she is a powerhouse with a no-nonsense attitude. Then you have Day, who won the Golden Globe, who honors Holiday through an outstanding conflicted performance and provides beautiful renditions of the famous singer's best songs. Maybe the Academy will give McDormand, who has two Oscars, her third. It would be justified, since the entire film is entirely on her shoulders, as she guides us through the world with a deep, layered, and quiet performance. Mulligan, who has been a respected actress since she burst on the scene 11 years ago, with an Oscar nominated performance in An Education, won the National Board of Review and Critics Choice awards. As Cassandra, in Promising Young Woman, she is sexy, funny, provocative, and tragic all at once. Unlike Day and Davis, she is playing an original character, and unlike McDormand, who I love in that movie, despite it being an absolute downer, is an absolute blast to watch. Again, it is a tough category, but my choice is Mulligan.
Best Actor
Anthony Hopkins in "The Father"
Riz Ahmed "Sound of Metal"
Steven Yuen in "Minari"
Chadwick Boseman in "Ma Rainey's Black Bottom"
Gary Oldman in "Mank"
My Pick: Hopkins in The Father
Who Will Win: Chadwick Boseman in Ma Rainey's Black Bottom
 While not as tough to predict as the Best Actress category, this one is also full some damn good performances. Ahmed was the favorite in the beginning of award season, but as we reach the big night, Boseman has gathered more and more awards. Sunday night will be the crowning jewel of a fantastic career that was tragically cut short. His death shouldn't take away the fact that he is on fire in Ma Rainey. The fact he was this far into his cancer battle, while playing such an energetic role, should justify the award too. Even though he isn't my pick, I am going to be very happy when his name is called, because the man made so much of an impact while he was here. From playing Jackie Robinson, James Brown, Thurgood Marshall, and finally, probably his most famous role, T'Challa/Black Panther, it makes it even more sad that he is gone. That said, Hopkins's performance as a man falling to dementia is as tragic as it is scary. The actor, who is in his 80's, still has more charisma and talent than actors who could be his grandchildren. That is my own personal pick, but in the end, this is Boseman's award.
Best Editing
The Father (Yorgos Lamprinos)
Nomandland (Chloe Zhao)
Promising Young Woman (Frederic Thoraval)
Sound of Metal (Mikkel E.G. Nelson)
The Trial of the Chicago 7 (Alan Baumgarten)
My Pick and Who Will Win: Yorgos Lamprinos for The Father
In my eyes, the film is a straight up horror movie where you are placed in the mindset of the victim.  For 90 minutes we see, and feel, the demise of the main character's state of mind. Lamprinos's employs very clever editing techniques for us to feel the same helplessness as Hopkins's character. It is Inception mixed with a horror film for the boomer generation.
Best Director
Another Round (Thomas Vinterberg)
Mank (David Fincher)
Minari (Lee Isaac Chang)
Nomadland (Chloe Zhao)
Promising Young Woman (Emerald Fennell)
My Pick and who will win: Chloe Zhao for Nomadland
Zhao, who has been cleaning house this award season, is a shoe in for this award. It isn't surprising since she created a film that was both fantastic character study and a respectful look into a lifestyle that many Americans live. It never feels false or showy, but humble and real. Most of all, it looks so easy, but when you think about it, she really created something special.
Best Picture
The Father
Judas and the Black Messiah
Mank
Minari
Nomadland
Promising Young Woman
Sound of Metal
The Trial of the Chicago 7
My Pick: Nomadland
Who Will Win: The Trial of the Chicago 7
Finally, we come to the big award of the night. I've talked about my love for how simple, but beautiful Nomadland is, but I feel the Academy will appease viewers with a film that communicates to our current times. While I think that the film is very good, but not great, Chicago 7's subject matter is something that can't be ignored. It is the kind of a big Hollywood film that sometimes surprises us and gets the gold.
The 93rd Academy Awards air Sunday, April 25 at 8 p.m. ET/5 p.m. PT on ABC.
#Oscars #Oscars2021 #MovieReview