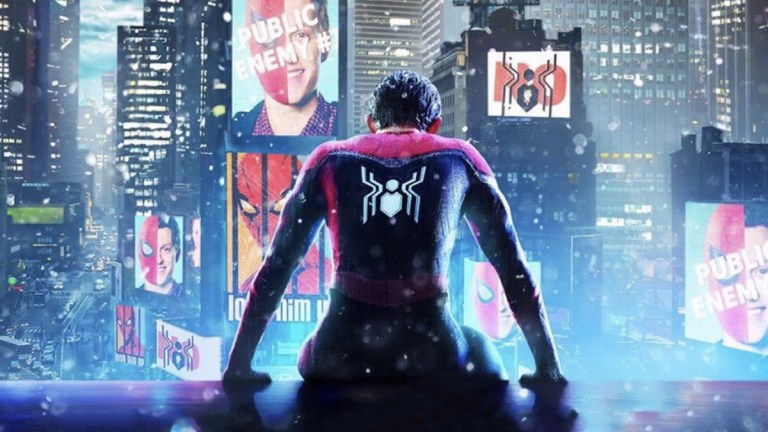 By Kevin Muller
The decision to include Spidey so late into the MCU was one of the many intelligent decisions that Kevin Feige, the master of this all, made when constructing this epic cinematic universe. It is comfort food while the newer, and lesser known, heroes start to come out of the woodwork. The first two Spider-Man films were loads of fun, mainly because of Tom Holland's exuberant performance as one of Marvel's most famous heroes. Does the English actor go 3-3?
The film picks up right where 2019's Far From Home left off.  A bewildered Peter Parker watches as Mysterio reveals his identity to the entire world, via recording that J.J. Jameson proudly broadcasts to help with his narrative that Spider-Man does more harm than good to his hometown of New York City. As expected, the chance at a normal life vanishes before, not only his eyes, but his best friend, Ned, and love interest, MJ, who are known friends of him. Additionally, the school staff splits down the middle too, with some loving him and others believing the lies that Mysterio spewed about him being a killer. Luckily, Peter has friends in high places and enlists the help of Doctor Strange. Strange casts a spell that will have everyone forget that Peter Parker is Spider-Man. The spell's after effects start the plot of the film. Unfortunately, saying anymore would spoil the surprising, not so surprising, and overall fun nature of it all.
This time around, Holland gets to show us why he is worthy of being Spider-Man and Peter. We all know that he has the physical prowess for the role, but here he is given a lot of material to show us why he fits the role like a glove. Outside of the grandiose battles, Peter has a lot of emotional obstacles thrown at him. Director Jon Watts controls all these elements quite well. It all feels like a rollercoaster of emotions that will make you laugh one minute and cry the other. What makes Holland so good is that we believe in the lovable, but naïve nature that he gives Peter. Out of all the actors who have played the part, this is where Holland succeeds the most. He conveys the "Oh, Golly-Gee" part of Parker quite well. It is a joy to see Parker keep his positive attitude through the toughest of moments. Unfortunately, this film shows the price for that character trait. That is one the strongest aspects of it.  It respects the audience enough to show the good and bad of being a good person.   
Ned and MJ, played by Jacob Batalon and Zendaya, are given more screen time this time around. As with Peter, Ned is a character full of heart who is fiercely loyal to his best friend. Their friendship is sweet and rings true to the character development of both these characters. Zendaya walks the line between sassiness and vulnerable with ease. She can keep up with the wise ass cracks, but also show how much Peter means to her. The three feel like teenagers stuck in the most outrageous of scenarios, and it does get very outrageous (wink, wink). Many films, even outside the comic genre, always fail at conveying how teenagers are portrayed on the big screen. They are either idiotic, or too wise beyond those years. Watts does a fine job as creating real people in fantastical circumstances.
What holds it back is what holds most of these films back. It all still resides in the assembly line feel of the MCU. There is nothing wrong with the formula that all these films follow, this is number 27, but it still feels too safe, even when the unexpected happens. There are constant hints, Easter Eggs, and set ups to the next films. The movie loses momentum when it tries to adhere to the formula a little too much. It feels as if you took that aspect away from it, you would strip it of the meat of its story. While Homecoming, the strongest one so far, and Far From Home had to survive on the legs of their own narratives, No Way Home has the luxury of falling back on the MANY surprises that this thing contains. All these surprises are great, but it makes the movie feel like a bridge more than a story of its own.
You know what? Who cares what critics say about this film? It does exactly what it sets out to do, entertain. It is incredibly fun, and all the surprises are a blast to watch. You will not regret a single penny of money spent If you are a lifer of the MCU, there is no doubt that Peter Parker's current adventure will both move you and make you stand up and cheer. This is the exact film we need to come together and forget the turmoil that is going on in the world.
I'm giving Spider-Man: No Way Home a 3.5 out of 5 Hairpieces!
#SpiderManNowWayHome #SpiderMan #MovieReview